The territory of Montbozon has been occupied since prehistoric times (a Neolithic resort was discovered there). Montbozon was once a fortified place. It is believed that it took its name around the year 800 from Count BOZON, son of Richard the Justice and grandson of Charlemagne the famous "King of the Franks", who inherited the "Mount" and the lands of Thienans, Monroz and Besnan. Montbozon being built on a height, the town was called MONT and by adding the name of the count of BOZON, it became MONT de BOZON, then MONTBOZON.
The existence of Montbozon is attested by documents written from the 12th century; it belonged to the county of Burgundy (domain of the Dukes of Burgundy) and was the seat of a châtellenie which extended its jurisdiction over 72 villages in 1789.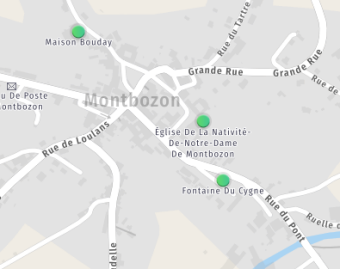 A feudal castle was built by BOZON around 950, in 1480 it was destroyed by the soldiers of Louis XII and in 1674 Louis XIV passed through Montbozon. It was at this time that the current castle was built, since it has undergone some modifications, in particular a tower is missing.
The Swan fountain, built at the foot of the castle by the architect MOREAU in 1829, is composed of a spring under a gushing flag and an elegant swan, it was classified in 1977.
A Dominican hospital was created in the town in 1450. Several houses from the 16th, 17th and 18th centuries are still visible in the village. Among them, the old Rousselot house (fortified house) is listed as a Historic Monument.
In 1597, Remond de Mesmay and his wife gave all the property belonging to them to the Jesuits of Besançon. In 1790, Montbozon lost its provost and its administrations from the old regime to become the administrative center of the new Haute-Saône canton.